1-Equipped with powerful Yuchai engine
2-FIAT technology gearbox, made in our own factory
3-Hydraulic steering system
4-FOPS canopy or A/C cabin
5-3 points hydraulic hitch for implements
6-More out put valves are available
Drive type
4*4
Overall dimension(L * W * H)
3225*1440*1900
Wheelbase (mm)
1639
Track(front/rear)
1243/960~1460
Track(front/rear) regulating method
Fixed/stepless
Min.Ground clearance(mm)
270
Min.operating weight (kg)
1400
Counterweight (max)(front/rear)
54/124
Gears(forward/reverse/creeper)
8+2/8+8/16+4
Theoretical speed of each gear(forward/reverse)
1.72-26.02/2.25-10.39;1.72-26.02/1.61-24.24;0.37-26.02/0.5-10.78
Engine
Brand
Laidong, Jiangdong, lijia
Engine type
In-line, four-stroke
Intake mode
Natural intake
Number of cylinders
3
Bore
70
Stroke
105
Displacement(L)
1.53
Engine rated power kW@rpm
18.8
Rated speed
Dry or wet type
Type of cooling system
Water-cooled
Max. Torque@ revolving speed (rpm)
≥88/1650
Specific fuel consumpti䨶Ga�5�PvE 䨶Ga�3Brated conditions (g/kW.h)
≤244
Fuel tank capacity (L)
29
Steering brake system
Type of steering system
Hydraulic/mechanical
Type of steering gear
Cam and roller steering gear/cycloid orbitrol steering gear
Type of braking system
Shoe type
Transmission system
Clutch type
Single-action/double action
Gearbox type
Two-axis mechanical gearbox
Gearbox shift mode
Shift sleeve +sliding gear
Type of central transmission
Spiral bevel gear type
Final transmission mode (front/rear)
Built-in type, single-stage spur gear
Walking system
Frame type
Frameless
Working device
Type of hydraulic suspension system
Open-center, separated type
Type of linkage
Three point rear linkage
Linkage classes
Class 0 or class I
Lift capacity(610mm point))(kN)
5.2
Regulating mode
Positioning control and floating control
Type of PTO shaft
Non-independent type
The number of PTO shaft splines
6 splines/8splines
Outer diameter of PTO shaft spline
φ35/φ38
PTO shaft speed
540/760 or 540/1000
Hydraulic system
Hydraulic output flow (L/min)
26
Feature of Foton 254 Farm Tractor for Sale:
1. The use of a simple floor structure and an external divider is easy for maintenance;
2. The safety frame is optional;
3. The single-acting or double-acting clutch is optional;
4. The various gear configurations, such as 8+2, 8+8, and 16+4 are optional, and the velocity distribution is reasonable to meet different operating needs;
5. The synchronized shuttle shift is optional, and the operation is easy, flexible and reliable;
6. The operations of hydraulic steering, the mandrel cylinder front drive axle are easy and flexible.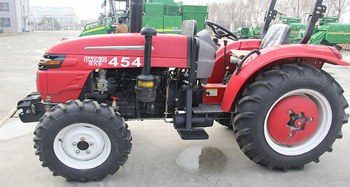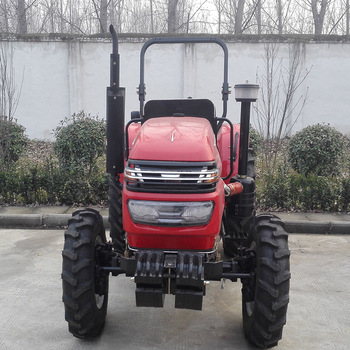 1. The power by luoyang dongfanghong diesel engine, straight cold water, four-stroke engine, torque reserve;
2. Use 4 x (3 + 1) transmission (12 forward, four reverse), convenient operation, high work efficiency;
3. Double speed power output, speed is 540/1000 or 540/720, two sets of hydraulic output interface, can form a complete set of various agricultural machinery, adapt to many condition of operation;
4. Adopting full hydraulic steering, double-acting clutch, flexible operation of portable.
& Adjustable supporting slider, a protection of the ground
& Flexible design, avoid snow blocking of outlet
& Blow the snow to the green belt or roadside, or throw the snow onto truck
& Ideal implements for clearing traffic lanes, sidewalks, yards etc